Adventure And New Discoveries Await You At Our Local St. Louis Alfa Romeo Dealer
St. Louis Alfa Romeo Dealer Visitor Guide: Alfa Romeo St. Louis Cars & SUVs

St. Louis Alfa Romeo shoppers! Get ready to explore like never before whenever you visit Mid Rivers Alfa Romeo. Innovation, luxury, and thrills come to life at our local St. Louis Alfa Romeo dealer. High-performance luxury cars put drivers on the edge of their seats, and luxury crossover SUVs make heads turn fast as they take on exhilarating speeds towards Gateway City on Route 66. From the new four-door Alfa Romeo Giulia Sport Sedan to the lovely new Alfa Romeo Stelvio, all the way up to the legendary Quadrifolgio St. Louis Alfa Romeo, you'll want to drive them all. 

To fully experience the Alfa Romeo model lineup, head over to our St. Louis Alfa Romeo new and used car showroom. We have some of the most interesting and iconic Italian luxury sports cars right here in the Independent City. However, if you don't want to wait, browse our new and used Alfa Romeo inventory online, which features all of your favorite makes and models, including the Alfa Romeo Giulia and Alfa Romeo Giulia Quadrifoglio, Alfa Romeo Stelvio, and the Alfa Romeo Stelvio Quadrifoglio. And while you're here, be sure to ask about our new Alfa Romeo packages. 
There's never been a better time to shop for a used or new Alfa Romeo in St. Louis, and our Mid Rivers Alfa Romeo sales specialist can help you find the perfect car for you. From popular lease deals and specials to reliable financing options, we are the experts on all things Alfa Romeo, new and used vehicles. You can even take a quick trip to our St. Louis Alfa Romeo service department to maintain your vehicle.  
For the whole Alfa Romeo experience, please call (636)-200-3848 or visit us today at 4953 Veterans Parkway in St. Peters, MO. We hope to see you soon.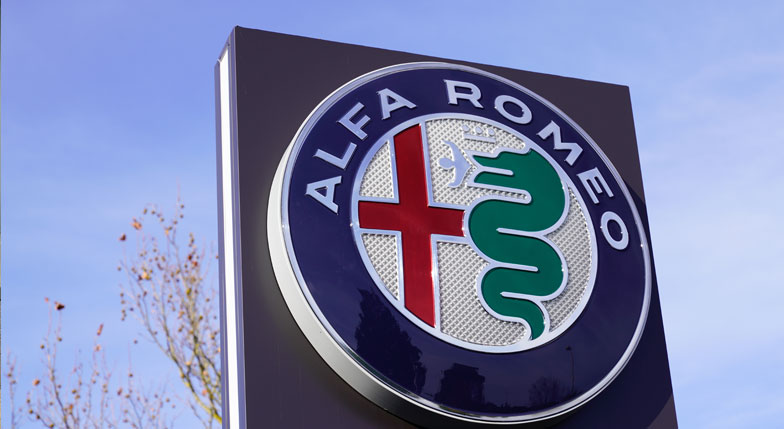 Directions To St. Louis Alfa Romeo Dealership Near Me

Get on I-64 W/ US-40 W 

Head South Toward S Tucker Blvd
Turn Right Onto S Tucker Rd 
Turn Right Onto Clark Avenue 
Turn Left to Merge Onto I-64 W/US-40 W 

Follow I-64 W/ US -40 W , I-270 N and I-70  W to Saint Charles. Take Exit 225 from I-70 W 

Merge Onto I-64 W/US-40 W 
Use the right 2 lanes to take exit 25 to merge onto I-270 N Toward Chicago 
Use the 2nd from the right lane to take the Kansas City I-70 exit toward to St Louis 
Keep left at the fork to continue on Exit 20B follow signs for I-70 W/Kansas City and merge onto I-70 W 
Take exit 225 toward Cave Springs Truman Rd 

Take Veterans Memorial Parkway To Your Destination in St . Peters 
Use the left 2 lanes to turn left onto Cave Springs Rd 
Turn right onto veterans memorial pkwy 
Turn left 
Turn right 
Turn left  
Get An Exclusive Behind The Scenes Look At Our New St. Louis Alfa Romeo Dealerships Cars & SUVS
Here at our St. Louis Alfa  Romeo dealership, high-performance, fun, and excitement is never more than a few steps or clicks away. No matter if you're traveling in from Route 66, the Grand Center Arts District or Downtown St. Louis near the Mississippi River, you'll find Alfa Romeo dealership cars & SUVs for all. To kick things into full throttle, be sure to take a ride in the new Alfa Romeo Ghibli, Ghibli Quadrifoglio, Stelvio, and Stelvio Quadrifoglio. While the 2.0L Turbo 4-cylinder Alfa Romeo engines will put you on edge, the 2.9L Twin Turbo V6 Alfa Romeo models are breathtaking. Trust us. There's no shortage of action on the St. Louis Alfa Romeo dealership's lot. But don't just take our word for it. Put your driving skills to the test with the new Alfa Romeo for sale cars & and SUVs listed below.

Find  The Right Used Car For You At Our St. Louis Alfa Romeo Dealership

If you're going to buy a used car for sale, do it right. Head on over to our local St. Louis Alfa Romeo Dealership's used car lot. Check out the hidden gems of Mid Rivers Alfa Romeo. Bring your family and friends to- or ride solo-and get ready to explore perfectly pristine used cars in mint condition. We update our used car inventory daily. So save more on used Alfa Romeo cars, SUVs, and today's most popular makes and models.

Our local St. Louis Alfa Romeo dealerships used car lot is the place to find spectacular prices on reliable pre-owned vehicles. Whatever the special interest, Mid Rivers Alfa Romeo provides many opportunities to learn and enjoy pre-owned cars for sale.

Want to find a used luxury car for sale? Saint Louis Alfa Romeo visitors have unlimited access to our luxury pre-owned vehicle inventory, take a walk through our used car Alfa Romeo dealer lot, shop spectacular used cars for sale, and take a test drive.For all things used cars, make sure to search used cars near me at Mid Rivers Alfa Romeo.

Explore The Best of St. Louis Alfa Romeo Dealers New & Used Cars

Mid Rivers Alfa Romeo near St. Louis, Missouri, is the newest member of the Napleton Auto Group. Located at 4953 Veterans Parkway in St. Peters, MO., it's just a short 35-minute ride from downtown St. Louis to our front door. It will definitely be worth your while to visit us in St. Peters. We are home to the latest fleet of new Alfa Romeo sports cars and crossover vehicles and offer excellent pricing and financing solutions.
  The sales professionals at Mid Rivers Alfa Romeo are prepared to help make your next car-buying opportunity as easy as saying prego! Whether it's the new Alfa Romeo Giulia, the Stelvio crossover, or their high-performance siblings, the Alfa Romeo Giulia Quadrifoglio or Alfa Romeo Stelvio Quadrifoglio, we have your new Alfa. Here at Mid Rivers, we offer amazing pricing and financial solutions. We can even arrange a new lease!
  The service department at Napleton's Mid Rivers Alfa Romeo features factory-trained technicians and master mechanics who know your Alfa as well as the people who built it back in San Germano, Italy.  
At Mid Rivers, you can shop for the latest Alfa Romeo vehicles and additionally receive top dollar for your pre-owned car, truck or SUV. Please stop by our location today. We are an easy 35 minutes from Downtown and just 15-minutes away from St. Louis Lambert International Airport. If you are flying in to see our selection of new Alfa Romeo, give us a call (in advance, of course!) and we'll be there to pick you up!
Our Sales Department is Open Monday through Saturday! Call (636) 220-5547
Our Alfa Romeo master mechanics and technicians are those who know your Alfa Romeo best. The entire staff of professionals at Napleton's Mid Rivers Alfa Romeo will work hard to offer the best leasing, selling and servicing experiences possible. Additionally, we love gently-owned vehicles in trade. And one other thing: please remember we service all makes and models and know what it takes to keep or get your vehicle back into tip-top shape. Regardless if you bought it somewhere else, we can fix it! Just call us at (636)-329-4762 or make a service appointment online. Our service department is open from 9:00 am-6:00 pm, Monday, Tuesday, Thursday and Saturday. Wednesday and Friday hours are 9:00 am-9:00 pm. We are closed Sundays.
A LEADING ALFA ROMEO DEALERSHIP SERVING THE ST. LOUIS, MISSOURI REGION.
  At Napleton's Mid Rivers Alfa Romeo near St. Louis, our professional staff is trained to offer you the best in service, sales, financing and leasing. Since our opening day, the Napleton motto has been "Second to None Since 1931," and that's the way we strive to be to this very day.     Our new and used car sales and service departments have helped us to earn and keep our family of customers satisfied. The quick trip from St. Louis to Mid Rivers is just over a half-hour - which is a quick and easy visit to test drive the amazing selection of new cars from Alfa Romeo. They are all here, waiting for you!
Visit Our Alfa Romeo Dealer Serving St.Louis Drivers

Our prices are some of the most competitive for dealerships in the St. Louis region. We work to provide the best deal possible for you! Stop and save today at Napleton's Mid Rivers Alfa Romeo!  The Napleton Auto Group has been serving St. Louis, Missouri, for years, but our Alfa Romeo dealership is the newest one at our Mid Rivers campus. Our professionals are driven to exceed your expectations. We value every customer and if you aren't one yet, we want to make a believer out of you, too! We invite you to come in and see why we are a great place to buy, sell and maintain your vehicle in Mid Rivers today.
Thank you for your consideration. We hope you have a great day!
Plan Your Visit To St. Louis Alfa Romeo Tour Today
* Indicates a required field
Hours
Monday

9:00am - 6:00pm

Tuesday

9:00am - 6:00pm

Wednesday

9:00am - 6:00pm

Thursday

9:00am - 6:00pm

Friday

9:00am - 6:00pm

Saturday

9:00am - 6:00pm

Sunday

Closed
Search
* Indicates a required field